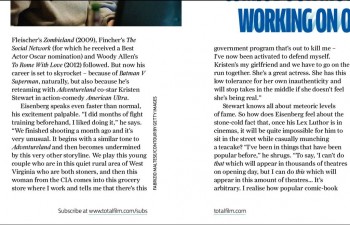 Click scan for a larger view.
But now his career is set to skyrocket – because of Batman V Superman, naturally, but also because he's reteaming with Adventureland co-star Kristen Stewart in action-comedy American Ultra.
Eisenberg speaks even faster than normal, his excitement palpable. "I did months of fight training beforehand, I liked doing it," he says. "We finished shooting a month ago and it's very unusual. It begins with a similar tone to Adventureland and then becomes undermined by this very other storyline. We play this young couple who are in this quiet rural area of West Virginia who are both stoners, and then this woman from the CIA comes into this grocery store where I work and tells me that there's this government program that's out to kill me – I've now been activated to defend myself. Kristen's my girlfriend and we have to go on the run together. She's a great actress. She has this low tolerance for her own inauthenticity and will stop takes in the middle if she doesn't feel she's being real."
Jesse's interview is from "Total Film" (UK) magazine October issue.