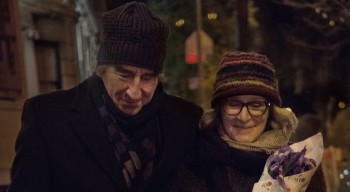 Click on pic for larger view.
First official still of Sam Waterston & Glenn Close.
Anesthesia
Directed and written by Tim Blake Nelson
(USA) – World Premiere, Narrative
On a snowy night in New York City, a Columbia professor is brutally mugged on the doorsteps of an apartment building. Director Tim Blake Nelson's haunting meditation of city life traces the chain of events that precipitate the attack, examining the inextricable and unforeseen forces that bring a group of disparate individuals together. Featuring a star-studded ensemble including Sam Waterston, Kristen Stewart, Glenn Close, and Cory Stoll.
The Tribeca Film Festival runs from April 15 - 26 in New York City.
For details on the festival + tickets go to
Tribeca Film Festival
site.
Source:
Tribeca Film Festival