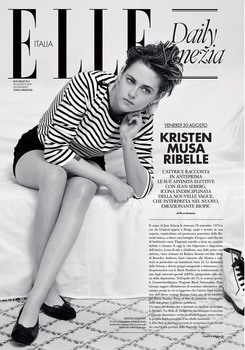 Kristen was on the cover of Elle Italia Daily for Day 2 at the Venice Film Festival.
Click on image for full view.
Google translated.
Did you know about Jean Seberg's story, the persecution by the FBI?
No, I had absolutely no idea, I found out everything when I approached the movie. But I knew the actress, she was very inspiring to me. Beyond the film, however, what always interested me was the extreme form of compassion, the need to help the marginalized. A humanitarian charge that never abandoned her and for which she was demonized. For many it was her madness, in fact she had a simple, almost naive political idea: revolution for her was being on the side of the losers. In the end, they all betrayed her.
Her films are mentioned in Seberg and how she reinterprets them.
It seemed right to start with the scene of the burning of Joan of Arc of the film Saint Joan by Otto Preminger, his debut. The viewer does not know if it is true or a vision, but it represents the witch hunt of which she has been a victim.
Was it more exciting or harder to remake one of the cult scenes of cinema, the finale of Breathless?
**
Challenging. We worked on the details, we knew we were dealing with an icon, it took extreme delicacy. And what the film tells is no longer the girl in Godard's T-shirt, but an actress who sees her moment of grace fade. We tried to capture its extreme sensitivity and vital energy, all on a small budget.
Does this story that weaves racism and the role of women still seem relevant to you?
Oh my God, it's more important than ever, but in particular it's important what it reveals about false information, fake news: those who control it can change people's lives, and that's what really terrifies me. In this social age everything becomes even more complicated. It's also a film that's very much about my country, America, today.
After the next Charlie's Angels in a brilliant role, you announced a director's feature film, The Chronology of Water, from the book of Lidia Yuknavitch, a former swimmer who in her writings investigates issues of gender and sexuality. Where are we?
I'm hoping to run with it next year, I've still got to finish a couple of acting projects that interest me. There is already a beautiful script, I have to commit to the visual part, the most difficult, the real challenge.
Will the future be as an actor or as a director?
Certainly at a half-way point between the two. At the moment All I know is that I want to close my suspensions as an actress and study to seriously prepare me to become a director.
** We are assuming this is what it translates to.
Source