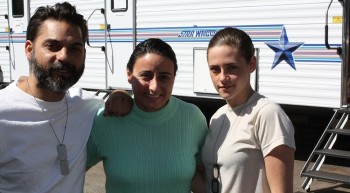 Click pic for larger view.
"Camp X-Ray", a new film that recently premiered at the 2014 Sundance Film Festival, stars Kristen Stewart ("Twilight", "On The Road") and Peyman Maadi ("A Separation") as two people who form an unexpected bond through their experiences at the infamous detention center in Guantanamo Bay. Amy Cole (Stewart) is a newly arrived army guard who is suddenly in a world very different from her own. Ali Amir (Maadi) is a detainee caught in the frustrating and painful limbo of detention. Throughout the course of the film, their unlikely friendship shapes and transforms their understanding of each other and their initial opposing perspectives. MPAC consulted with writer/director Peter Sattler on the script and was also on set for the filming. "Camp X-ray" will be released in August of 2014.
Please note: The release date on the article is unconfirmed at this stage.
Source
via
kstewartfans
thank you.