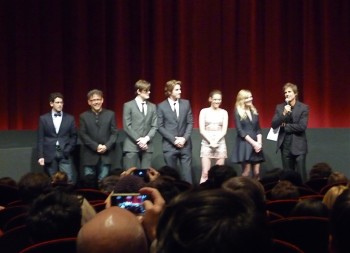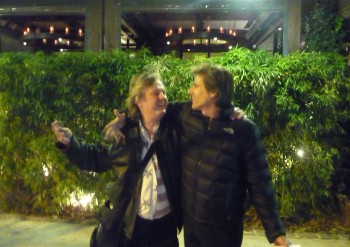 Brian Hassett & Walter Salles (Dec 13)
Excerpts from Brian Hassett's blog entry.
And then he brings out the actors in this cool way — in the order in which they first committed to the film. First it's Kirsten Dunst who plays the person he met on this project who most impressed him — Carolyn Cassady. "In meeting Carolyn in 2005, I was so impacted by the intelligence and the sensitivity of that unique woman, and I thought that only an actress with those qualities could play her. Could you please welcome Kirsten Dunst."
Then he [Walter] goes into this whole story about his friend who saw an advance screening of "Into The Wild" and immediately called Walter about this actress nobody'd ever heard of to play Marylou, and he wrote her name down on a napkin: "Kristen Stewart" "And when I first met her in 2007 she had such an in-depth understanding of what 'On The Road' was about and knew the book inside out, and she was 17."
Then, "When Garrett Hedlund drove from Northern Minnesota for 3 days to the audition in Los Angeles, he brought such electricity and life to Dean that we knew we had found one of the most difficult characters to cast, and that electricity never dissipated — but what I didn't know is that he would be such a great Road companion."
And then he intros Sam Riley with, "One day I saw 'Control,' and for those of you who love cinema, you know how impactful that could be. Seeing Sam Riley in that film was something I wasn't going to forget. There was such intelligence in the performance, such intensity, but also in the non-verbal there was the capacity to understand and decode the world. And these are qualities writers have, and that we wanted to have to bring Sal to the world."
.....And THEN Kristen Stewart comes walkin down the stairs, and suddenly it's the whole Road crew! minus Big Al Hinkle, hanging on a stairwell balcony (I think he'd dashed out for rolling papers), and weir looking over twinkling New York with Neal carrying on multiple conversations in multiple voices at once.
And then we go back to the party and Walter introduces me to Kristen Stewart, which is such a strange and unexpected thing that he has to be dealing with with this movie. Like, nobody in it was supposed to be a movie star. The leads were all cast because they were all unidentifiable fresh faces — film goers were already coming in with such fixed images in their minds as to what the characters looked like, the filmmakers couldn't also have actors with established characters affixed. So they cast all relative unknowns in the main roles. Then lo and behold, Kristen Stewart becomes the biggest grossing actress of 2012 before the movie comes out. So Walter, and her, and everyone, have to deal with this.
But I get to hang with the mega-star for a while, and man, she's so petite you could put her in your pocket! And she's bookish, and reserved, and 180 degrees different than Marylou. We talk about indie film, and she confirms my assumption that's she's gonna do them the rest of her life. We didn't say it, but this is a 22-year-old indie chick who fluked into the biggest movie franchise of the last few years, and she never has to work another day in her life. Yet she is going to be so many different interesting characters in the years to come. I tell her the truth that she brought Marylou more to life than Jack ever did, but she would hear none of it. To her, it was all Jack. And I beamed.
"Your kids are all gathered in the corner — you should go see them." And this was the most amazing thing — in this beautiful penthouse skyline scene where I would not and did not take any pictures except for the one I'll share shortly, but in the corner of this mobbed premiere party, Garrett, Kristen, and Sam were able to sit side-by-side in this alcove by the window, the three of them together again for perhaps the first time since they were all crammed in a '49 Hudson for months, and able to enjoy the reunion together. And it's so obvious how close they all are — it was like my high school reunion of a couple years ago — talkin, laughin and huggin all at the same time.
After-Party Ticket
Source: New York Times Scan: Brian Hassett
Please do read Brian's full amazing experience at the New York City premiere and after-party of 'On the Road' at his blog here.
Via
@NoemieS7art
via
@KstewAngel
thank you.