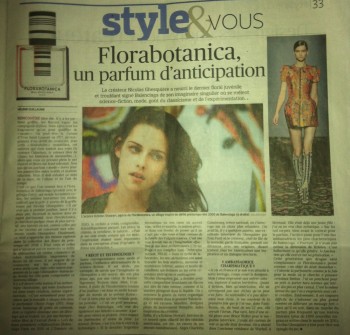 Finally, there is Kristen, heroine of this new olfactory opus (and American tabloids this summer because of her tumultuous love affairs). After Charlotte Gainsbourg, national treasure, one wonders about the Atlanticist choices. We had read a few years ago, a great interview with Guesquière by Tom Ford where the creator, leader of the new French department, took his distances with his origins saying that he was finding an inspiration and a strong dialogue with the Americans.
"Charismatic ambassador"
"I live in France and I am very attached to our heritage, cut short the designer. But I love borrowing things from other cultures, explore new territories. Regarding Kristen, though american, she does not match the pictures that we can make. her nationality did not determine my choice. I remember the first time I saw her in Panic Room, where at the age of twelve, she burst on the screen. later, during a photo shoot with Bruce weber for Interview magazine, I was curious to see what she had become. We shot in the former residence of Warhol in Montauk. She was already a young girl: I had a real aesthetic shock."
On the red carpet, before the contract for the perfume, the actress is considered one of the most charismatic ambassadors of Balenciaga. "But I did not consider the size of Kristen. It's amazing what she generates, the fascination she exerts on her generation."
Scans and translation, thanks to
itsoktobeyou.org