It Just Feels Right
(Interview by Wolfgang Hertel)
It's one of these afternoons when the summer can't really seem to decide what to do. The thermometer shows 80°F, yet dark and rainy clouds adorn the sky over Paris. The police officers in front of the Elysée Palace shoo you to the other side of the street because you obviously have to keep a safe distance. That doesn't bother me, however, because here is where I find the entrance of the Hôtel Le Bristol. At this hotel a coffee costs about 9 Euros, a club sandwich about 41 Euros. And this is where the interview with Kristen Stewart takes place.
The 22-year old arrived at the French capitol in order to present Florabotanica, the fragrance of Balenciaga. She replaces Charlotte Gainsbourg as the official face of the brand. The way she stands up from the old fashioned couch of the hotel's huge panorama suite absolutely doesn't remind you of pale and bottom-lip-chewing Bella Swan – the role in theTwilight movies that made her a superstar. She wears a dark blue pinstriped suit with shorts and along with that a white t-shirt with a brightly colored graphic print and half-boots with murderously high heels – all by Balenciaga, of course. During the interview she sits straddle-legged like a guy and constantly watches you with her bright and alert green eyes. She absolutely focused, talks much and fast and in surprisingly vulgar American English. Nothing seems more foreign to her than the for the fashion industry usual small talk. She laughs a lot. Questions about Robert Pattinson and possible affairs are naturally forbidden nonetheless.
Because of the Twilight movies people recognize you wherever you are. What would happen, for example, if you just walked out of this hotel right now?
Because it's a very noble hotel people somehow already expect celebrities to come out of there. I probably had to sneak away through the underground garage, but then it wouldn't be a problem at all.
Don't people start screaming when they see you on the street?
No, that only happens at premieres or special fan events. That doesn't happen in real life. Of course, sometimes one or two people ask for a photo and an autograph, but that is totally alright.
What is not alright?
The photographers who are ambushing you. Whenever I come to a town for interviews or a movie, they find out and are already waiting at the airport. This time, however, they somehow didn't [find out] – they don't know I'm here.
Do you have bodyguards?
At official events there are about a million people all around me, not only those from security. And that alone draws people's attention. The bodyguards are nervous and people somehow notice their tautness. And then usually it all starts with: 'Who is that? Look! Oh, that's Kristen Stewart!'. That's annoying. If I came in like a normal person, no one would probably have even noticed me.
How do you handle the fact that pretty much everything you do and everywhere you go appears on the Internet in no time? It didn't take five minutes to find out that before coming to Paris, you were doing promo in Australia. Then you flew to L.A., went to a Jenny Lewis concert, and the next day you were at a wedding party in New Jersey…
I just ignore all the gossip and constant reporting about myself. Everything else just doesn't work. And it's also only mere facts [that are being published on the net]. People don't know what I exactly did at the wedding party. I also don't really understand the whole concept. What use would it be for me to see on my computer screen that someone I don't even personally know attended a wedding? And if a stranger asked me how the party was I would just say: 'Why are you asking about things that you should know nothing about? Do you believe anything that is said on the net? Fuck off!'
On November 22nd the last installment of the Twilight Saga is released [in Germany]. Are you happy that it's over?
I'm relieved. Not that it's finally over but that we told a story from beginning to end. A story I and all my colleagues invested a lot of energy in. I lived in the Twilight world for about four years – that's a very long time that demands a lot of patience on your part. Thank God, I had the opportunity to do smaller movies like The Runaways,Welcome to the Rileys, and On the Road in between [shooting the Twilight films]. Otherwise I'd probably have turned mad.
Doesn't a hype like that around Twilight make you mad no matter what?
You can't let this whole circus irritate you. I will always have good memories about Twilight and I had no clue what would happen when the first movie came into the theaters. I took the role because I love movies. Of course movies are just entertainment but to many people particular films mean so much more. I'm one of these people. Movies can tell you something about life, they can help you understand it better, they can wake your interest, or be the reason why you question certain things. They can be fucking important.
Is that the reason why you look so unhappy on the red carpet – because you can't handle the circus?
I absolutely separate the one thing from the other. On the one hand there is the movie and the story you wanna tell with it. On the other hand there is all this spectacle created around it. In the best case you're doing scenes that stir feelings deep inside you that you didn't even know existed. And you use these feelings for your own life. If people bitch about me looking grumbly or that say I shouldn't make such a fuss and be fucking grateful instead of pulling a face, I can only say that with every movie I do I give 100%. And that, by far, is the most important thing to me.
Yet you are the new face of Balenciaga. What did allure you to it?
I admire people like Nicolas Ghesquière and Mario Testino [designer of Balenciaga and photographer of the fragrance campaign, author's note] who love what they do more than anything. They follow an inner drive and that's why they are where they are. And when Nicolas asked whether I would like to work with them I didn't even need to think about it. I know it'll probably sound awfully pretentious but it just feels right.
So you can't elude yourself from the fascination that is the fashion world?
I would never work with people who aren't really creative and aren't committed to what they do. Unfortunately there are a lot of those people out there, they are fucking everywhere, and they try to suck the soul out of you. For example, I would never do a make-up campaign, even though the [final] photos with me would probably look good. Thank you, but it doesn't interest me.
What do you want do instead?
I notice that, at the moment, I am in an immensely intense phase of my life. It feels like I could burst from all my energy any minute now. And I don't want this fire burning inside of me to go out. So I'm not gonna use my time twittering at which kind of wedding I am.
HQ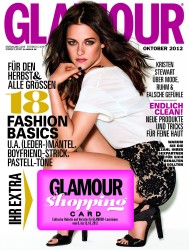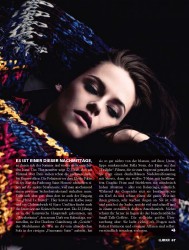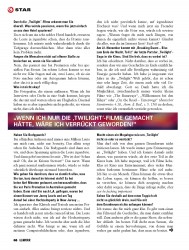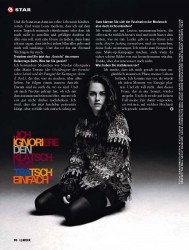 MQ