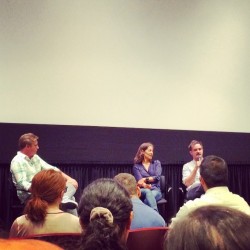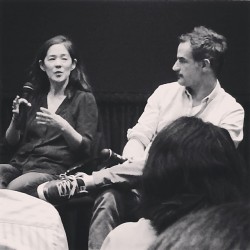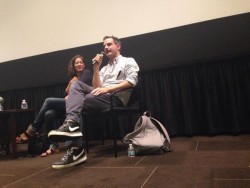 Click pics for larger view.
Full video of the Q&A
Partial video of the Q&A
- Peter Sattler talks about Kristen.
Tweets from the 'Camp X-Ray' Q&A at the University of Southern California in LA on Sunday 22 June 2014 with director Peter Sattler & producer Gina Kwon.
Audience reaction to #CampXRay was sooooo much better than the screenings I went to at Sundance! Lots of laughter (at the right times)! :D
Peter Sattler talking about using Muslim Public Affairs to make sure the film showed BOTH sides of the story.
Kristen had a consultant to get into 'army shape'
They'd call JB (not HBG) to make sure the army stuff was right.
Authenticity was IMPORTANT to Peter Sattler in making #CampXray
#CampXray was inspired by some stock footage that Peter saw a few years ago about a soldier & detainee interaction with a book.
Gina Kwon talking about how she got started on #CampXray ... She read the script and LOVED it!
It was really helpful that the set was in LA, especially for Kristen (being the A-lister she is) and a low-budget.
Gina suggested for the cast to have a night of go-carting to get acquainted with each other.
The party/boat scene was total improv.
Apparently there are a lot of deleted scenes of Kristen and Lane. Ummmm can we see those!?!?
Talking about Payman Maddi :) Guys, he's soooo good in #CampXray
"It HAS to be Kristen! She's perfect!" -Peter Sattler
He worked with Kristen on UNDERTOW!
Peter saw THE RUNAWAYS and knew K was the actress!
Apparently THE TWILIGHT SAGA is super popular at Guantanamo Bay .. They had copies laying around the office as a joke!
There was an early draft of a scene with Lane where he talks to Cole about seeing Breaking Dawn .. LOL
Real life soldiers stopped Peter after seeing the film at Sundance & they were moved by how accurate this portrayal was.
Peter wanted to end with hope.
#CampXray was shot in 21 days!
'The world's biggest star just signed on' - Peter Sattler .. Awwwwwwwww he's a fanboy!
Peter wanted to probe the question of long term detention. #CampXray
Best thing you can do to get a film made? Have a star in it! #campxray
There's a weird Hollywood circle when it comes to funding. #CampXray
Kristen starves for really great roles. #CampXray
October #CampXray will be released!!!!
We didn't include one tweet by StrictlyRobsten as it was a bit spoilery.
Via
@KstewsSmirk
K told him she decided to join the cast because she felt she understood the character and liked that if had a message.
K told him she decided to join the cast because she felt she understood the character and liked that if had a message.
He originally wrote a scene where one of the characters mentioned a twi film and then decided to remove it.
Peter Sattler mentioned how K would worry about minor things like how to hold her hat so they'd call their army consultant for her lol
Peter knows Kristen from the Undertow. He was the set dresser haha
K would call John "army consultant" asking him if her hat was right and all that lol
Peter wrote a scene where they mentioned "twilight" in the movie but he took it out lol