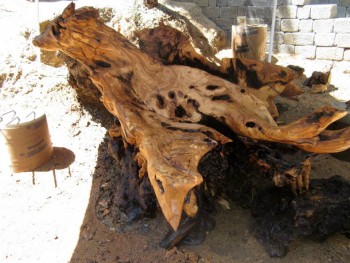 Click pic for larger view.
Kristen Stewart's Dragon Bench
This is a bench I finished friday (6/20/14) from a fossilized (hard as cement) olive root that was uncovered on Kristen's hillside home. I have never carved wood as hard as this. We met many problems with dirt, rocks (which kills a sharp chain) roots that told me what I could and could not do and the heat was a challenge (100+ some days). No better way to get back in the game then to do something so difficult. To find a Dragon in this root and make it a functional lounge bench is something I am so proud of... and it's comfortable too! Coating it next week and the finish will be stunning! ;-)
Check out the making of the 'Dragon Bench' for Kristen at Cherie Currie's
Facebook
(Source).
Via
Via
thank you.