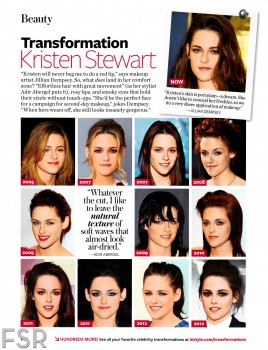 Click scan for larger view.
Jillian Dempsey:
"Kristen will never beg me to do a red lip."
"She'd be the perfect face for a campaign for second-day makeup. When hers wears off, she still looks insanely gorgeous."
"Kristen's skin is porcelain - a dream. She doesn't like to conceal her freckles, so we do a very sheer application of makeup."
Adir Abergel:
[So what does land in her comfort zone?] "Effortless hair with great movement."
"Whatever the cut, I like to leave the natural texture of soft waves that almost look air-dried."
Scan thanks to
SupermodelScans