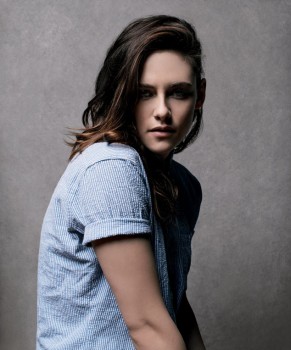 Click on the pic for larger view.
BTS video (no Kristen)
Kristen Stewart may be one of the world's most famous movie stars, but she didn't always want to be an actress.
She was first inspired to get into movie making because her parents were "hardworking crew members," Stewart says in The Art of Discovery, a book of celebrity portraits by photographer Jeff Vespa benefiting the Creative Coalition.
"I wanted to come home with hundreds of stories and plates of food nicked from craft services, looking like I had just been through absolute hell."
"I thought what they did for a living was awesome,"
she says.
However, a very young Stewart realized she was
"too small to be a grip like my brothers were, so, I figured I'd act,"
she says.
"It was my only option. The problem was getting a job. I was eight years old, and wasn't very actor-y."
After a year of auditioning, Stewart nabbed her first major role in 2001's The Safety of Objects.
"I thought, 'Wow this isn't just a cool job like my parents have, this is who I am,"
the Twilight star says.
"That was the day my dream of being a grip or a script supervisor shattered, and my life opened beyond my wildest dreams."
You can order the book through
Amazon
.
Source
Via
Via
Via