HQ
Inside Show
Photocall/ Show MQs
Tweets/MQs
Kristen in some of these photos above is with 'Sils Maria' director, Olivier Assayas, her stylist Tara Swennen. Michael Pitt, Milla Jovovich & Chanel's head designer & creative director, Karl Lagerfeld.
Before the 'Chanel' show
kenorourke1
Guess who at work today ! #Kristenstewart #chanel #ruthbernstein #hairdo #paris #couture #emmakotch #jcdm33 #kristenstewart so much fun as ever
Download
ZIP
(for the photos above)
Screencaps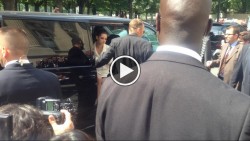 Video
Kristen arriving at 1.06mins in the video below
Full Show
(Kristen briefly in some parts)
Interviews
Short interview at the show. Kristen talks about being at 'Chanel' for the first time.
Small interview with Kristen at the show & meeting Olivier Assayas & Karl Lagerfeld.
Fan Videos
Arriving & leaving