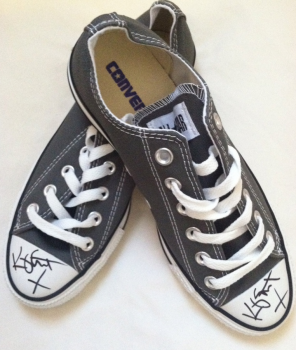 Even if you know little about Kristen Stewart, you probably know that her signature look includes an awesome pair of Converse sneakers! Kristen has once again chosen to use her fame to take a stand against human trafficking and sexual coercion. You may remember
last year
when Kristen Stewart's signed Keds raised $1,500 for Shoe Revolt and its partner programs.
Shoe Revolt is pleased to announce that our next auction will kick off appropriately with the release of Breaking Dawn Part 2 on November 16th. Fans will have the opportunity to bid on an autographed pair of size 7 charcoal Converse sneakers signed by Kristen Stewart. What better way to show your support for Kristen then to make a bid and support such a worthy cause.
Kristen Stewart's shoes will be a part of our celebrity auctions with 100% of the proceeds going toward victims & survivors of sex-trafficking. By contributing, your support for Shoe Revolt and its scholarship program ensures that victims (human beings) are not ignored or forgotten, but are remembered and living free. To learn more about Shoe Revolt, our scholarship program, upcoming auctions or how you can join the movement, check out
www.shoerevolt.org
or
www.teenrevolt.org
Also, make sure to follow us on Facebook and twitter for auction details.