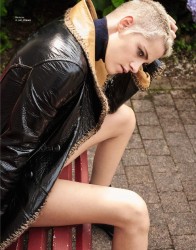 Click on scans for full view.
Google translated (or read it at the source in French):
Here we are, our generation, with our firm will to follow only our own rules, with our constant redefinition of femininity, this way, by following a new idea of what the youth can in a relationship to the world that you did not know.
It is a sort of astonishing to find you associated with a perfume
I do not run after the world of fashion. The films I made brought me, while I was only a teenager, to enter almost break-ins. I met both the worst and the best. Scary or just ridiculous behaviours, people deploying a delightful imagination to crush you. I also met rare personalities, who only think to make the world more beautiful, it is their only obsession. Karl is like that. I've been working with Chanel for four years now. So the process was natural. Working with him is like working with a great director: I have to translate his ideas into a body. I am not the creator, I am the one who transmits to others.
Is that your role with Karl Lagerfeld? We thought rather of a contemporary muse
No, I see him more like the one who can tell him with the ardor and innocence of an almost adolescent: Listen, trust me, I will go explain them, I will translate the vision.
What exactly was that vision for Gabrielle?
Chanel had not put out a fragrance for fifteen years. They wanted to get to something that was "basically Chanel". What does it mean "to be Chanel"? Something authentic. With some idea of insubordination.
It is an idea that touches you, one imagines ...
It's a flattering idea! (Laughing) I remember very well a sentence, in the preparatory preparations: "We tell a story, we will not change it, suddenly, because it is a perfume". Un-Subscription is therefore one of the strongest components of this history.
Gabrielle Chanel was a rebel?
Few people know that before Coco, before the character of Coco Chanel, there is this girl, baptize a perfume Gabrielle, is to go below the surface of things. In the small film that accompanies the release of perfume, I am not Gabrielle Chanel but I hope to be connected with what she symbolizes. I work instinctively. I go forward in life without necessarily knowing where I am going, but I do it by not being afraid of error. If you do not take risks, you will never learn anything. I was struck by reading about Gabrielle Chanel, how her life has been sawtooth, a succession of ups and downs. She was experimenting. Some of her proposals were well received, others rejected. But she did not change her line because it did not appeal to public opinion. It is someone who has been searching, exploring, until the last day. Forcing, it is a trait of her that speaks to me. I can be accused of many things, but not content to begay a success come early. Otherwise I would be in front of you to promote Twilight 28.
Curiosity is the engine?
Take Karl. Of all the people I know, he is the most curious. Neither age nor reputation nor responsibilities have extinguished his appetite for discoveries. He's on the lookout. Music, books, ideas, the way the body makes language: it is on the lookout for everything.
The commercial film shows a liberation, a metamorphosis, a new body. This is what you symbolize in a strong way ...
We are all constructions. When Gabrielle becomes Coco, one can believe that she betrays what she is, and that she goes away from the authentic. It is the reverse: it gives the name to something that was in Gabrielle, it leaves this veridic part of itself to grow, to mutate. The name of the perfume says everything to me: we came back to the person under the character but without contradiction with Coco. We have traced back to the origin of Coco in order to better measure the transformation, the choice of choice. When Gabrielle draws the double C of the Coco Chanel logo, it leaves a "g" to be discovered. She was very proud of her own transformations. It is a feeling that can be very contagious! I firmly believe that you must decide who you are.
What is the place of a perfume for a generation like yours, with other readings of femininity?
It's a good question. It is the basis of good numbers of conversations with the Chanel house. Initially, I was a little intimidated to the idea of being associated with a campaign for a perfume. Why me? I did not feel comfortable with that. I had clichés in my head: I imagined right away in a robe wandering in the lobby of a palace, kissing in the void ... Why not, but it is assex little me, right? (Smile). I did not see what I could bring to this classic perfume imagery. And I know that launching a new perfume after fifteen years is a huge responsibility, we are on the ground of a very broad definition of femininity. But precisely, the question began to work: how to wear a perfume, to seize a feminine, would be a reactionary act reserved only for ultra sophistication?
I had just shaved my head, and I had never felt so feminine, capable of taking things a priori far from my taste, like a fine perfume. Women today are looking for a new way to be feminine. Each one tries, in our own way, unpublished things, which cause the lines to move. One can be a girl of a hundred ways, with all the complexity possible. The first one to have cut her hair is Gabrielle. It was what we would call today "a weirdo". The codes of normalcy were not her own, she did otherwise. My generation is in its wake. She does not care a priori.
Can your filmography be seen as a long documentary about you? I think of Twilight as much as Olivier Assayas's Personal Shopper or Gabrielle's commercial ...
Particularly with Olivier, yes ... he put it in, in Sils Maria and in Personal Shopper. I like to tell myself that the spectators understand things of me through a role, by fragments .... I am more in the affirmation of who I am. I do not see myself, at this moment, embody women millions of miles from me.
The celebrity come young, you suffer? How is one constructed by being watched, scrutinized, from evening to morning?
It is a strange and unique deal. The main difference is the absence of any spontaneity. Now, I cannot decide for a shots in a bar on a head shot. Any request from the organization. It changes a lot. I was not prepared for this celebrity. When I was younger, I was a total "shoegazer" I was walking around looking at my pumps, hoping never to meet anyone's eyes.
What I miss is not being able to go to a cafe and watch people, watch their lives, imagine what they do as work ... Celebrity has forbidden me that. But in exchange, I received something else. A stronger sense of belonging to the world. And the duty to work all the time to understand this recognition. Never stop me. "Running, running, running for myself…" (She refers to the Beyonce piece that carries the commercial, editor's note). Feed me from this strange stimulation that is the public's gaze.
Source
Scans
Korita05