Certain Women
/ U.S.A. (Director: Kelly Reichardt, Screenwriter: Kelly Reichardt based on stories by Maile Meloy) — The lives of three woman intersect in small-town America, where each is imperfectly blazing a trail. Cast: Laura Dern, Kristen Stewart, Michelle Williams, James Le Gros, Jared Harris, Lily Gladstone.
World Premiere
First Still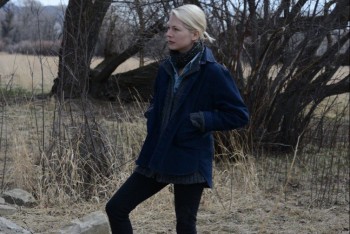 Click pic for full view.
Full synopsis via
Sundance
official page for 'Certain Women':
Certain Women drops us into a handful of intersecting lives across Montana. A lawyer (Laura Dern) tries to diffuse a hostage situation and calm her disgruntled client (Jared Harris), who feels slighted by a workers' compensation settlement. A married couple (Michelle Williams and James Le Gros) breaks ground on a new home but exposes marital fissures when they try to persuade an elderly man to sell his stockpile of sandstone. A ranch hand (Lily Gladstone) forms an attachment to a young lawyer (Kristen Stewart), who inadvertently finds herself teaching a twice-weekly adult education class, four hours from her home.
Kelly Reichardt returns to the American West, by way of Maile Meloy's short stories, but upends its traditional associations. Here, the rugged men of yesteryear struggle with age, injury, and indignation while the women imperfectly blaze trails. Reichardt's unhurried, observational style resists judgment or sentimentality. The picturesque setting masks lives of quiet desperation and conflicting emotion. All three stories strain with longing, populated by flawed people wrestling with moral ambiguity and living between isolation and intimacy.
Running time: 107 mins.
The festival runs from January 21 until 31 January 2016 throughout venues in Park City, Salt Lake City and Ogden UT USA.
Source:
Sundance