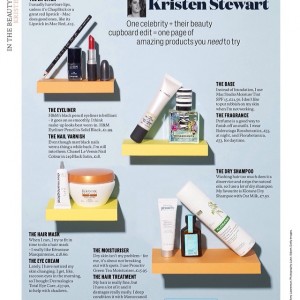 In the April issue of ELLE, out today, Kristen Stewart shares her favourite beauty products. Here she talks about changing her looks for roles, her favourite smells and the unlikely character she looks to for beauty advice...
On ageing:
'I've just started using an eye cream, you know I never used to worry about these things but lately I have noticed my skin changing'.
On getting enough sleep:
'Typically I try to get good sleep, drink water, eat healthy. I could sleep 10 hours, but I find eight hours is sufficient'.
'But then I've had some of my most treasured experiences on no sleep like when we were filming On the Road. I'm not even kidding there were nights we didn't sleep but we were living well and so inspired – everyone looked great.'
On changing her look for roles:
'I'm pretty much open to anything – if I really loved the part I'd do anything. You know, hair grows relatively speaking - it doesn't take that long in exchange for a good experience so I think it's worth it. I've been blonde, dark, I've had reddish hair, short long. I run the gambit'.
On her off-duty style:
'I go for a typically natural look, not just because its easy. I'm from Southern California – I was born and raised in LA and here we're very casual. If I go to London or New York – it's so fancy; I'm the one looking completely out of place.'
'My mom is a completely southern California girl – she is why I am 'Miss jeans and a T-shirt'. You look at those people, who are so put together, and then you look at their mom's and they tend to be put together. My mom is like don't worry about it; make-up is so artificial why would you not want to look like yourself?'
On beauty advice:
'Take a tip from Zoolander,' she told ELLE. 'Moisture is key' she said referring to the movie quote – 'Moisture is the essence of wetness, and wetness is the essence of beauty'.
On her beauty icon:
'Chloe Sevigny is intimidatingly cool. She does the whole no make-up thing so well, but when she does go for a 'look' it just works.'
On her favourite smells:
'I really love cooking – I love the smell of fresh herbs. Do not like to bake, there's like a chemistry element that I'm not into. I like cooking American comfort food – but then I can also do lighter, healthier food. Gardenia is probably my favourite smell.'
On how a man should smell:
'Man, honestly I don't like aftershave. I don't even like it when their hair smells of product.'
Kristen Stewart is the face of Balenciaga Rosabotanica, from £53, out now.
More quotes from the scan:
The Lipstick
"I usually have bare lips, unless it's ChapStick or a great red lipstick - Mac does good ones, like its Lipstick in Mac Red" (£15)
The eyeliner
"H&M's black pencil eyeliner is brilliant - it goes on so smoothly. I think make-up looks best worn-in. H&M Eyeliner Pencil in Solid Black." (£1.99)
The nail varnish
"Even though matt black nails were a thing a whild black, I'm still into them. Chanel Le Vernis Nail Colour in 219 Black Satin." (£18)
The hair mask
"When I can, I try to fit in time to do a hair mask - I really like Kérastase Masquintense." (£18.60)
The eye cream
"Lately, I have noticed my skin changing, I get, like, raccoon eyes in the morning, so I bought Dermalogica Total Eye Care (£37.90) to help with shadows."
The moisturiser
"Dry skin isn't my problem - for me, it's about not breaking out with spots. I use Proactiv Green Tea Moisturiser." (£15.95)
The hair treatment
"My hair is really fine, but I have a lot of it and it damages really easily. I deep condition it with Moroccanoil."
The base
"Instead of foundation, I use Mac Studio Moisture Tint SPF15 (£21.50). I don't like to put rubbish on my skin when I'm not working."
The fragrance
"Perfume is a good way to finish off an outfit. I wean Balenciaga Rosabotanica (£53) at night, and Florabotanica (£53), for daytime."
The dry shampoo
"Washing hair too much does it a disservice and strips the natural oils, so I use a lot of dry shampoo. My favourite is Klorane Dry Shampoo with Oat Milk. (£7.50)
Source
Scan
Via
itsoktobeyou.org
thank you.