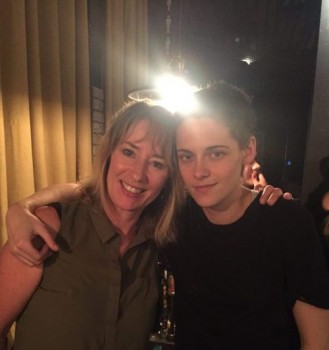 Click on pic for full view.
Fan account (Kim Palmer):
Kristen Stewart is such a great person ~ a wonderful, talented actor...very friendly, funny, humble, professional, grateful to everyone - and she gives the best and biggest hugs too!
All of the actors on this set were such a lovely bunch to work with... Diane Kruger walked over and introduced herself to me right away on the first day, always a joy to be around - Laura Dern was a sweetheart, treating us all to Starbucks...Jim Sturgess, Courtney Love and James Jagger (Mick's son) were a lot of fun to be around as well as my buddy, Adam Jackson Hurtig, who is always a sweetheart on set!
So glad to be a part of this wonderful production - It's been a brilliant experience with a fantastic crew that are all so fun, lively and kind with genuinely caring, calm and gentle spirits even under pressure.
I've really enjoyed coming to set every day for the past several weeks to work with you all. And I'm so looking forward to seeing the final cut of this movie! ❤
Source