New Stills (LQ)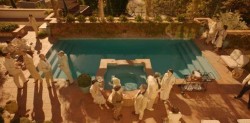 Click on stills for larger view.


Film and Digital Times (April 2016) interviews 'Cafe Society's DP Vittorio Storaro and other crew.
Click on images for readable view.
You can read and/or download the pdf document from the source
here
.
Interesting to note that Vittorio or the reporter calls Kristen and Jesse's characters Bobby and Vonnie under one of the stills in Central Park (page 11).
Thanks to
@InfamousRosie20
for the tip!