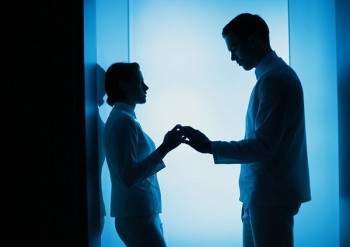 Click on still for full view.
Equals,
directed by Drake Doremus, written by Nathan Parker. (USA) – US Premiere, Narrative.
Set in a sleek and stylish future world, Drake Doremus' (Like Crazy, Breathe In) sci-fi romance envisions an understated dystopia, where human emotion is seen as a disease that must be treated and cured. Impassive faces and collegiate pleasantries are the ideal, and those whose feelings break the surface are diagnosed with 'Switched-On Syndrome' and tracked by the Health and Safety Department. Against this backdrop, coworkers Nia (Kristen Stewart) and Silas (Nicholas Hoult) begin to feel dangerous stirrings for one another.
In this futuristic Romeo & Juliet, Doremus builds on his previous star-crossed romances by adding a layer of rich world-building and fantasy, which puts the rawness and humanity of his characters' feelings for each other in relief. How will these two star-crossed lovers find a way to be together when, as the Collective continually reminds us via big-screen public service announcements: 'a cure is just around the corner?'
The Tribeca Film Festival runs from April 13 to April 24 in New York City.
Information on how to buy tickets can be found
here
or directly on 'Equals'
page
on the Tribeca website from 29 March.
Source
Still:
Via