New Still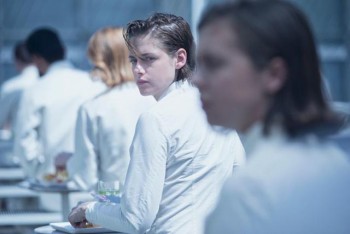 Click on still for larger view.
— Biennale di Venezia (@la_Biennale) July 29, 2015
SATURDAY 5 SEPTEMBER - 10:15 pm
Venue: SALA GRANDE
SATURDAY 5 SEPTEMBER - 10.30 pm
Venue: PALABIENNALE
EQUALS by Drake Doremus (USA, 101', language: English, s/t Italian)
Cast: Kristen Stewart, Nicholas Hoult, Guy Pearce, Jacki Weaver
There will be a
press conference
at 2.30pm CET on Saturday 5 September with Kristen, Nicholas and Drake (via
@Gossipgyal
).
Livestream for the press conference, photocall and red carpet:
Rai Movie Venezia
and
labiennale.org
. (
Via
)

Friday 4 September - 7.30pm CET
Friday 4 September - 10.00pm CET
Sunday 6 September - 8.00am CET
— Alberto Barbera (@AlbertoBarbera2) August 11, 2015
Alberto Barbera is the festival director - confirming that Kristen and Nicholas will be attending the festival.
The 72nd Venice International Film Festival runs from 2 - 12 September this year.
Source
Disclaimer:
The still with logo was created by us (TeamKristenSite), it is not official or associated with the film festival.