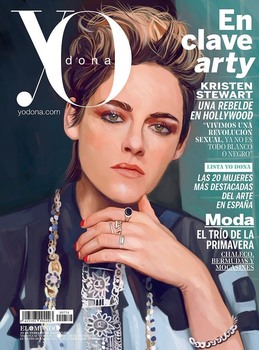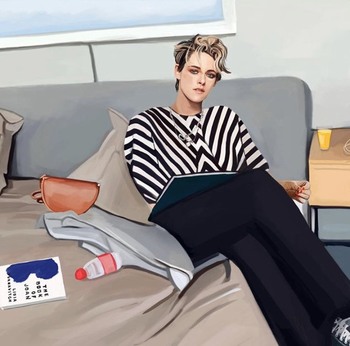 Illustration by artist Inés Maestre.
Digital Scans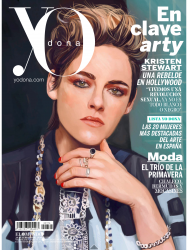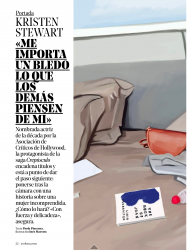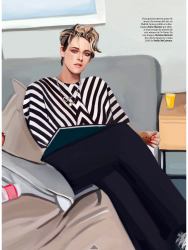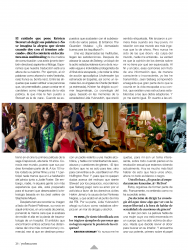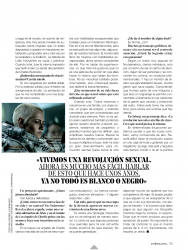 Click on images for full view.
Translation thanks to
Uchiland
Transcribed:

Yo Dona: Do you feel identified with the tragic examples of people who fail to overcome the pressure of labels?

I have never felt labelled. They threw me to the front line when I was very young, my relationship with that world was more naive than now. But I have never been one of those who say: "It is people's fault, nobody understands me." Actually the opinion others have about me does not have to be wrong. After all, these opinions are the result of information that, consciously or unconsciously, I have transmitted to them. Jean Seberg understood really fast that much of what happened in her life was beyond her control, there were established structures she had to adapt to. I feel the same way. As for labels, for me they are an interesting topic, especially when I think about the sexual revolution we are currently living. Today it is much easier to talk about this than a few years ago, now things are not just white or black.

You do it. Is it thanks to female empowerment, to #Metoo?
I am proud to be part of it. Frankly, I don't understand how it hasn't happened before.
Does your decision to direct The Chronology of Water have something to do with greater freedom when it comes to talk about sexuality and gender?
One hundred percent. The film talks about a woman whose voice is locked up in a body that has been victim of abuse. Until she decides to relive the pain to look inside. And she finds a powerful voice, first on paper and then in the world, with no hint of shame. There are very few self-help novels about women who are not willing to accept the mechanism established and proposed again and again by society and tradition. Lidia Yuknavitch's story is dirty and primitive. When I read it, I had the same impression I felt when I read Ham on Rye by Charles Bukowski.
Bukowski with a feminine point of view? It is almost scary.
Yes, doubly ashamed. For the violence suffered and for being ashamed of it. The feeling that they do not understand us and do not accept us as we are.
An exciting project, how do you plan to address it?
With strength and delicacy.
How do you start this new phase of your life and career? In Underwater you sport a shaved head, like a submarine version of Alien, and in the Charlie's Angels remake you fight with your hands and make a foray into comedy.
In the new Charlie's Angels we go beyond the cliche of three women with exceptional abilities who work for a mysterious philanthropist. That alone is already a beautiful story, but in this movie there is something else, something typical of our time. The world is full of women with exceptional abilities, now we are aware of it. Not to mention super heroines. What I like most is that it is not an action movie in which they do the same thing that men would do. It is not "we can do it too" but "look at what results the feminine force obtains."
Are there moments in your life outside the movies when you feel you are using your strength?
When I vote. We are all born and grow up in a family, a social class, a group of friends, and we usually consider them to be coordinates that will last forever, But it's not like that. In these issues we can also exercise our right to decide, we can surround ourselves with small or large worlds that define us, which amplify our strength. Seek strength in others and understand that theirs multiplies yours: this has been a great discovery for me. When you feel [she jumps on the chair with enthusiasm "We did it, we are aligned, and someone answers: Yes!"
However it seems that at this stage of history new currents of atrocious machismo are appearing.
Yes, there is a male typology that will not naturally extinguish. The truth is that some people are very dear to me are old white dudes. We can't generalize.
Can I have any of those dude's names?
Are you kidding, right?
Many public figures want and at the same time fear being the center of attention. Have you managed to avoid this paranoia?
According to a very popular story in North America, certain individuals, just because they are the center of attention, stop being people and become comics, two dimensional creatures. And there is a lot of money that revolves around that, many people get a chunk of the cake. To understand that you are part of a machine and that you are a gear allows you to concentrate solely on the opinions of the people you value and do without the rest. Before this topic drove me crazy, but now I see the force behind.
In Seberg, a character says: "the revolution needs movie stars". I think you think the same.
In certain situations, we can help things change, I am convinced. It's difficult to make a revolution standing on a fruit box shouting through a megaphone. Is somewhat more subtle and requires more time. To influence or not to in politics depends a lot on who your travel companions are. If I can help someone not be ashamed of who they are or their decisions, I am glad to do so. And if the price I have to pay is my photograph taken while I'm doing the groceries. I accept it. Letting them look gives a great sense of power. It is important not to try to control what the world thinks of you. Frankly, I don't give a damn.
Source
1
2
Digital Scans
Korita05